Elon Musk has won an audacious bet he made back in March to build a battery system for South Australia in "100 days from contract signature or it is free."
The 100-megawatt Powerpack system is the world's largest, or three times bigger than Tesla and Edison's battery at Mira Loma in Ontario, California.
The Tesla CEO was responding to a challenge from Australian IT billionaire Mike Cannon-Brookes to help fix the Australian state's electricity woes. Losing the bet would have cost Musk "probably $50 million or more."
As it happens, when the grid connection deal was finally signed on Sept. 29—kick-staring the 100-day clock—Tesla was already halfway finished with installation. So if you want to be technical, you could say that the project was finished a month and a half before the contract's deadline. The company originally estimated completion by December 2017.
The lithium-ion battery storage facility will charge using renewable energy from Neoen's Hornsdale wind farm near Jamestown, South Australia and deliver electricity during peak hours.
According to Business Insider, when fully charged, the battery should hold enough power for 8,000 homes for 24 hours, or more than 30,000 houses for an hour during a blackout.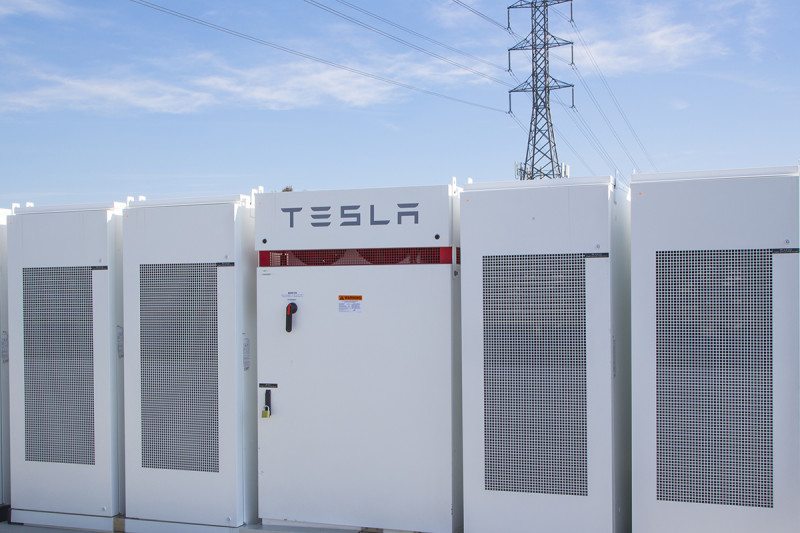 "While others are just talking, we are delivering our energy plan, making South Australia more self-sufficient, and providing back up power and more affordable energy for South Australians this summer," said Premier Jay Weatherill in a media statement.
"The world's largest lithium ion battery will be an important part of our energy mix, and it sends the clearest message that South Australia will be a leader renewable energy with battery storage."
Weatherill said that regulatory testing over the next few days will ensure that the battery is optimized and meets energy market regulatory requirements before operations commence on Dec. 1.
Musk tweeted, "Congratulations to the Tesla crew and South Australian authorities who worked so hard to get this manufactured and installed in record time!"